Next walk: 7th August Glenridding -- Lake District
Details available as of 28th July
Number of places left on the coach: plenty!
The coach will park in the Glenridding coach park. There are toilets there which charge 50p with a turnstile system that only lets one in at a time. Payment is by contactless card or cash. The coach will make a toilet stop at services on the way out.
Walk
Leader(s)
Plan/recce report
A
Phil
We leave the car park and head to Westside then onto Lanty's Tarn after here we follow the path going through Reservoir, Broomhill Plantation to the Ruthwaite Lodge before getting to Grisedale Tarn. Then back over Deepdale Hause St Sunday Crag until Thornhow End and back to the car park the way we went out. Around 9.5 miles, with nearly 3000ft of ascent, rewarded with great views.
B
Bill
Leaving Glenridding by the Greenside road passing beneath Glenridding Screes. We head past the Youth Hostel where we turn off and zig zag up past the old mine workings. We head for the top of Sheffield Pike returning to the path near Bleabank Side overlooking the quiet Glencoyne valley. The path drops gradually to the old mining cottages at Seldom Seen. From there we head for the scenic Lakeside path for the last two miles back to Glenridding. 7-8 miles with 1800ft of ascent.
C
Roger
The C walk heads West along Glenridding Beck to Rattlebeck Bridge, then climbs steadily - we can take our time on this section - up to Lanty's Tarn. From here we drop down into Grisedale, taking the path on the North side of the Beck up to the end of Grisedale and back on the other side of the valley descending gradually to Grisedale Bridge. Finally returning along the road back to the coach at Glenridding. About 6.5 miles with 700ft total ascent. Walking poles could be useful and gaiters (if there is wet weather around).
Our last visit to Glenridding was in July 2013. Here the C walk in Grisedale: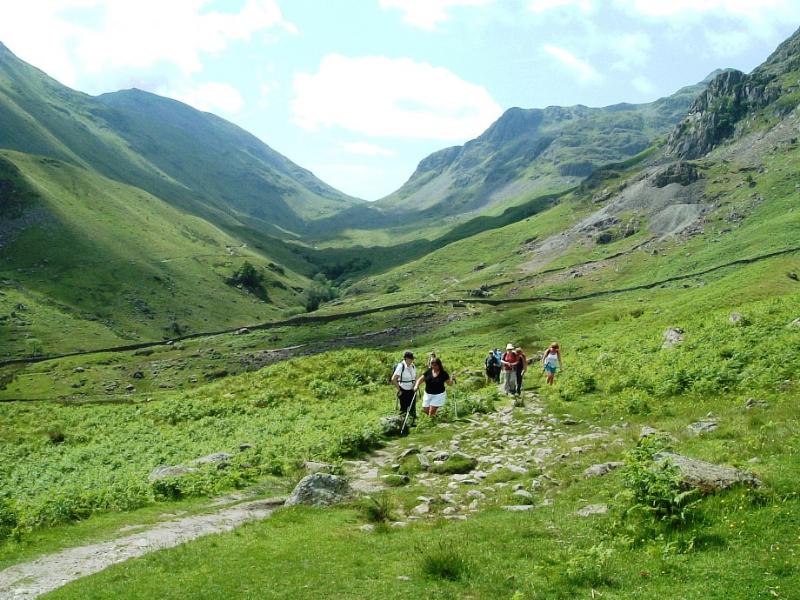 Click here for more memories..